When it comes to hiring a tile installer, there are plenty of factors to consider. Tile installation is a tedious task and you want a qualified professional to do the work for you. This ensures that your tiled floors last for many years and you get the most value out of your money. To eliminate the guesswork, here are a couple of things you should look for when hiring a tile installer so that you can make a confident hire.
Look for a tile installer with ample experience
You may be tempted to hire a handyman or a jack of all trades, but usually they don't have enough experience to do quality tile work. Most experts recommend you hire someone with at least three years of experience in regards to tile installation. Make sure to ask the person about their portfolio so you can get a better idea of their output.
The last thing you want is to cut corners and just hire someone to install the tiles for you. By hiring a skilled professional, you'll be able to save time and money in the long run.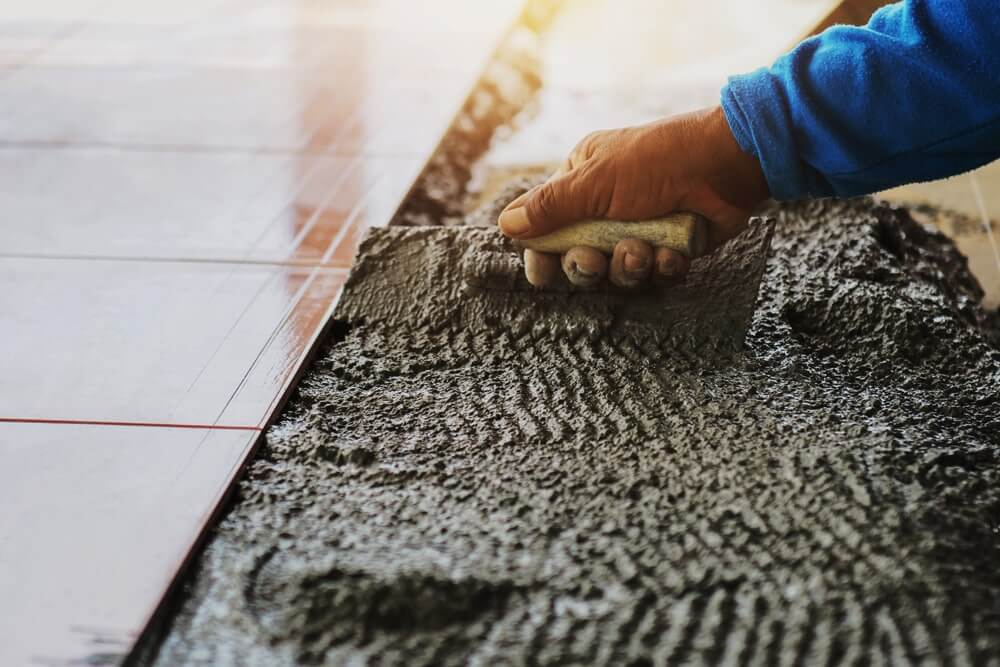 Ask the right questions
Asking the right questions can help you determine whether or not you're hiring the right tile installer. Make sure to ask the following questions:
How long will the project take?
How much tile is needed?
How many people will be working on the project?
Have they ever worked on a similar project like this before?
Know what to look for in a quality tile installation
You can learn a lot about a tile installer by looking at their portfolio. When viewing their completed projects, take a close look at the tiles. Do they have even spacing? Are the grout lines perfectly straight? Is there no lippage on the tiles?
Look for a layout that is well-balanced. The cut tiles should be roughly the same size, even if they are on opposite ends of the room. Inspect the tiles around doors, windows, and corners as these areas are often challenging to work around with. If you notice clean grout lines and precision-cut tiles, it's a good indication that the tile installer is highly skilled in his craft.
Large gaps, excess grout, and ill-fitting tiles are simply unacceptable and the tile installer should be avoided at all costs.
The tile installer should be well-organised with their materials
Tile installation requires excellent organisation skills. An installer must be quick and efficient with his work because grout, mortar, and adhesives dry quickly. If possible, try to visit your prospective tile installer and observe how they prepare their materials and how they execute their work. You'll know a tile installer is adept at his profession when you spot the following:
• Tiles are neatly stacked
• Tiles are already cut
• The pattern of the tile layout is completed
• Tile cuts are done outdoors
• Surfaces near the tile installation are covered with plastic
Ask for a bid
Once you've found your prospective tile installer, the next thing to do is to ask for a bid in writing. This way, you'll get a more accurate estimate and let your installer know that you're serious about getting a quality result.
An expert tile installer is confident with their work and will never be afraid to guarantee results. Get a written guarantee that their work will be free from cracks, leaks, and any other issues for a minimum of at least 2 years.
Have the installer purchase the tiles
Your tile installer understands all the ratings and technicalities associated with your tile installation. With this in mind, you can let them purchase the tiles for you so you don't end up with the wrong material. Just outline your preferences so they can have a guideline of which kind of tiles to pick up.
If you plan on purchasing the tiles yourself, don't hesitate to ask any questions. Take advantage of the wealth of knowledge that designers, architects, engineers, and contractors have. Their relative experience with working directly with tile installers can help guide you throughout the tile selection process.
You can also talk to a commercial contractor as well. The vast majority of tiles sold are used in commercial buildings and commercial contractors know what kind of tile works best for specific applications.
Look for professionalism
Professionalism is the hallmark of a trustworthy business. While this doesn't relate directly to tile installation, you want to hire someone that's professional in approach. When meeting with your prospective tile installer, take note of how they speak and interact with you. Do they inspire confidence when you meet them? Like they always say, first impressions last and your tile installer should instill a sense of confidence in you that their work will meet your expectations.
By following these tips, you'll be able to hire the right installer for the job.