Have you ever tried to tile your bathroom or kitchen? If so, then you most likely know how challenging it is in terms of the equipment needed, the labour involved, and the costs associated with it. While tiling seems like an interesting process worth learning, it requires a specific set of skills that only a professional tiler possesses. Tiling is far from easy and you need to be both skilled and experienced to get the tiles to look exactly how you want them.
That is why we recommend hiring a professional for most tiling jobs in your home so that the project can be completed on time and budget. This article outlines 5 compelling reasons why you should let the professionals take care of all your tiling needs.
1. They know how to choose the right materials
Professional tilers have extensive experience in managing multiple tiling projects from start to finish. They know exactly which type of tile to use in a specific area like the bathroom walls, kitchen backsplashes, floors, etc. Each tile has its unique characteristics and professionals consider these qualities to ensure the tiles fit their intended applications.
For example, a professional tiler may use ceramic or porcelain tiles for your kitchen backsplash because they're easier to clean and use stone tiles on your bathroom walls to give them a bit of texture and visual interest. Some stone tiles have a polished finish like granite and marble which can become very slippery when wet.
Other tiles like slate can vary in thickness and create an uneven surface. Professionals can work around this by altering the adhesive bed underneath or make use of wide grout lines to achieve a levelled surface.
All these little details matter when it comes to tiling jobs and a professional tiler will help you pick the right materials according to your needs and preferences.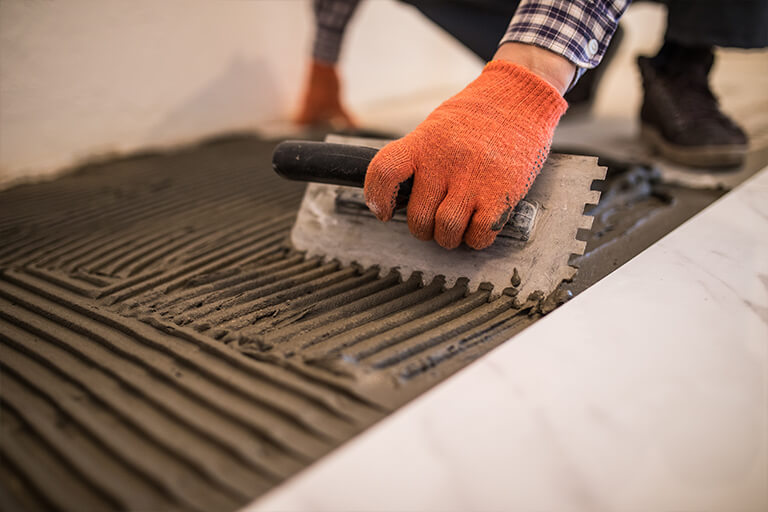 2. They know how to execute even the most complicated tile layouts
Whether it be a straight lay design or a diagonal pattern, professional tilers can make quick work of even the most complex tile layouts. Bathroom floors often use a diagonal layout because it makes the room look more spacious. This process requires cutting the tiles when approaching the corners which is something an amateur installer will find difficult to execute.
Tiling involves mathematical calculations to ensure the whole layout is consistent in its appearance. This is especially true when you lay tiles in complicated layouts like a herringbone pattern, a brick bond pattern, or even a 45-degree bias.
3. They have access to all the necessary tools and equipment
Professional tilers have access to the right tools and equipment that make tiling so much easier. They invest their money in high-quality machinery, blades, and measuring equipment which enables them to make clean, sharp cuts. This portfolio of tools includes a wet tile cutter, tile saws, an angle grinder, and diamond blades just to name a few.
While you could rent these tools from your local hardware store, you'll find it a bit costly just to complete a single tiling project. You also need to learn how to use the tools properly so that you can cut the tiles accurately. Remember, a professional tiler uses only the best tools of the trade available and it's one of the main reasons why they're able to lay tiles in the exact fashion that you desire.
4. They can save you valuable time
Tiling is a time-consuming task and it can take hours upon hours to complete a complex layout. To the untrained eye, inspecting a tiling project appears to be a simple task, but once you start the job, a whole bunch of issues start popping up. From making the wrong cuts to applying grout unevenly, these mistakes can quickly add up and cost you significant amounts of time and money.
Thanks to their experience and expertise, professional tilers can limit the mistakes most amateurs make to ensure they finish the project in record time. They'll give you a rough estimate on how long the tiling will take and manage the process from end to end, saving you the headache involved in laying out tiles.
5. They help reduce tile wastage
There's a reason why tile suppliers recommend adding 10% of the total tiles required for a certain project and it's to give room for any errors an amateur may make. Inexperience and lack of equipment access are the two main reasons for tile wastage as they lead to inaccurate cuts and wrong measurements.
However, a professional tiler will usually be able to reduce tile wastage simply by carrying out the tiling process in a near-flawless manner. You don't need to buy additional tiles because a professional tile installer will guarantee that the project is completed within their proposed budget.
These are the benefits of hiring a professional tile installer for your tiling needs. While it can be fun and interesting to learn about tiling in general, it's best to leave the home tiling projects to the hands of industry experts. For all of your tiling requirements, feel free to contact Gib Tiling today.