A perfect bathroom has a certain charm about it. When you return to your dinner table or a hotel, do you ever feel forced to praise the cleanliness of the bathrooms? It's simple to feel relaxed, pleased, and a touch fancy when we're in a nice bathroom.
If you're looking for bathroom renovation ideas, you could be overwhelmed by the number of options available. There are so many beautiful designs in magazines and websites, each of which is just as exquisite as the one before it. So, which one is the best fit for you?
We're drawn to restrooms that have been painstakingly constructed to fulfil our wants flawlessly, even if it's not conscious.
There are considerations to think about when designing a washroom that makes you feel good every time you walk into it.
Budget
You're talking about investing in your home and yourself when you get the chance to turn it into the style you choose. The cost of upgrading a house or a bathroom can be as high as you want it to be, and if you don't stick to a budget, the prices can skyrocket.
The answer is to look into the expenses of custom building in your area, make a reasonable budget, and attempt to keep to it. If you hire a renovation company or design-build agency that offers fixed prices rather than estimations, this will be much easier.
Remodelling a bathroom can rapidly become prohibitively expensive, owing to a combination of labour and, to a smaller extent, materials. Some highly skilled experts are in high demand, as are the licensed subcontractors with whom they work. You'll need to take in the expense of anything from tiles to a bathtub if you want to renovate your current bathroom to higher-end materials.
Style
When it comes to bathroom remodelling, you're generally not going to modify the type of washroom you have. Before you finally decide, it's worthwhile to consider all of your choices. You might have lost opportunities if you didn't consult a professional interior designer. A small half bath may be converted into a beautiful main suite by appropriating some area from a walk-in closet or a bedroom.
A complete bath, also known as a conventional bathroom, has a sink, a toilet, a tub, showers, or both. In the past, there was just one full bathroom in some older homes, and it was meant to be shared by the entire family.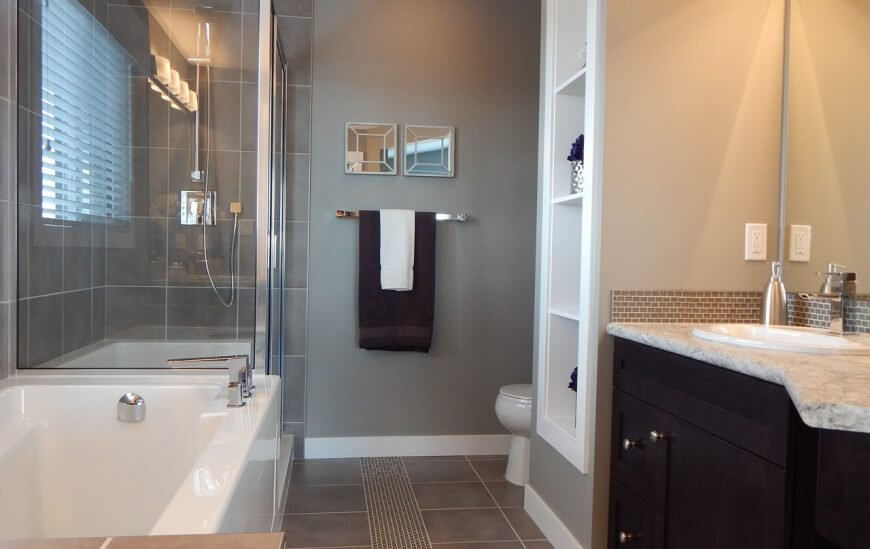 Layout
So you've decided on the type of bathroom you're going to remodel or install. After, it's time to start thinking about the layout. There are numerous variants in bathroom layout determined by the shape and amount of space you have to deal with.
Important tip: You must first choose the layout of your bathroom before thinking about the aesthetics.
Bathtub blues
Bathtubs are standard in traditional bathrooms, but it appears that some people's desire to soak is diminishing. Perhaps it's because life is increasingly busier. When compared to showers, baths similarly require a lot of water.
Fitting a bath into your bathroom renovation will be a major yes if you're the type who enjoys the complete relaxation that a bath can bring. Luxury bathtubs are ideal in a master en-suite where you want to bathe in privacy and away from the rest of the home.
Lighting
When it comes to building a new bathroom, a lot of people overlook lighting. On the other hand, bad bathroom lighting is easy to spot, and it may utterly ruin the space's appearance and functionality.
Natural light is the best way to make a bathroom feel light and airy. Try to include as many windows as feasible in your design, as well as a skylight if possible. You can still use a tubular sunroof if your home's architecture doesn't allow for a standard skylight.
Because the sun sets every day, no matter how fantastic your natural lighting plan is, you'll need an equally excellent artificial lighting strategy as well.
A smart place to start is to think in terms of layers. Recessed LEDs can provide ambient light on a dimmer switch, but remember that overhanging light can cast a shadow on the face, which isn't comfortable. As a result, make sure the vanity has soft lighting at eye level. Some new vanities include built-in lighting that gives your skin a natural appearance by delivering pure, broad-spectrum light.
Ventilation
By nature, bathrooms are prone to wetness, and this problem is exacerbated during certain seasons.
All bathrooms require efficient ventilation to keep inhabitants healthy and mildew from forming. Mould is a significant issue in bathrooms, and if left unchecked, it may stain and cause costly damage, especially in the most hidden corners.
The most common types of ventilation are from windows, window vents, and exhaust fans.
Final note
A bathroom makeover can be a fantastic way to transform your home into the area you've always wanted. However, doing it well necessitates a thorough examination of your needs.
Is it better to have a spacious walk-in shower or a bathtub? Do you want to design a luxury master bathroom that you can enjoy long after you retire, or do you want to increase the value of your home in the short term?
But don't feel obligated to accomplish it on your own. Contact a bathroom renovations company like GIB Tiling so they can help you achieve your bathroom goals.