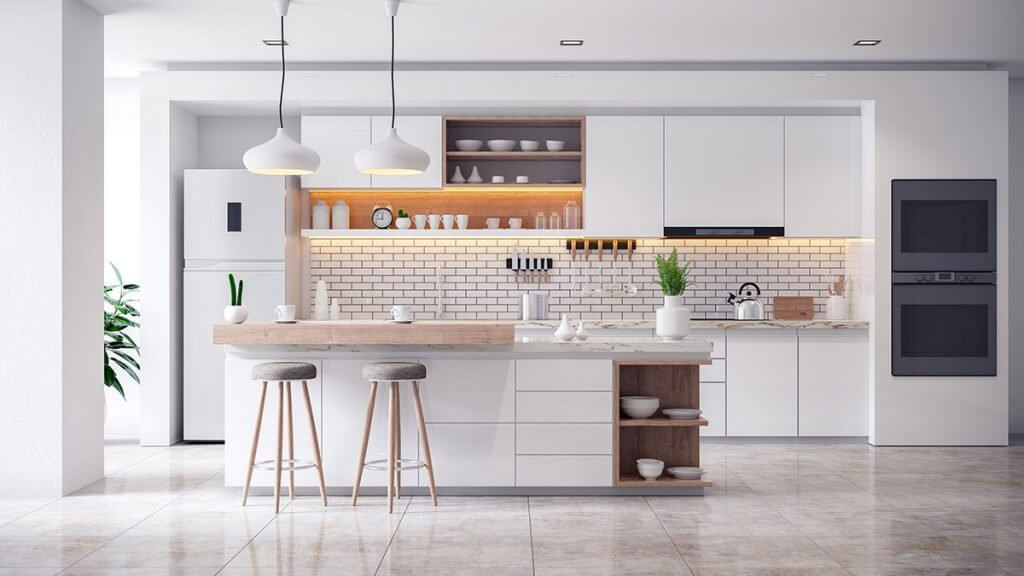 The most suitable kitchen floor has to be very functional, and any fan of good interior design will also care a lot about how nice it looks.
Even though these two things are essential, various types can be used in a kitchen.
What are the options?
With so many options, it's essential to know how to pick the best kitchen flooring. Each type of kitchen flooring has its benefits and care needs, and some are better for some households and ways of life than others.
Tiling a kitchen floor is a clean, attractive, and easy-to-clean option. Even though kitchen tile is a single category, it can be made from several different materials, each of which has its benefits:
Ceramic
Ceramic tile is a type of tile that can be pretty cheap. It's easy to get the look you want with many colours and patterns to choose from. You can choose between finishes like matte and gloss, and ceramic tile can also look like stone or wood.
Why shouldn't you use ceramic floor tiles in your kitchen? Some types of kitchen flooring are more durable and might be better for a busy household.
Porous is another way that ceramic differs from porcelain tile. This is less important in the kitchen than in the bathroom, but having a lower porosity can help keep stains from happening.
Porcelain
Porcelain tile is another option that won't break the bank when it comes to kitchen tile costs, though it will probably cost much more than ceramic. Again, there are a lot of colours and finish options, and the fact that you can get both plain and patterned tiles makes it easy to make the room look the way you want it to.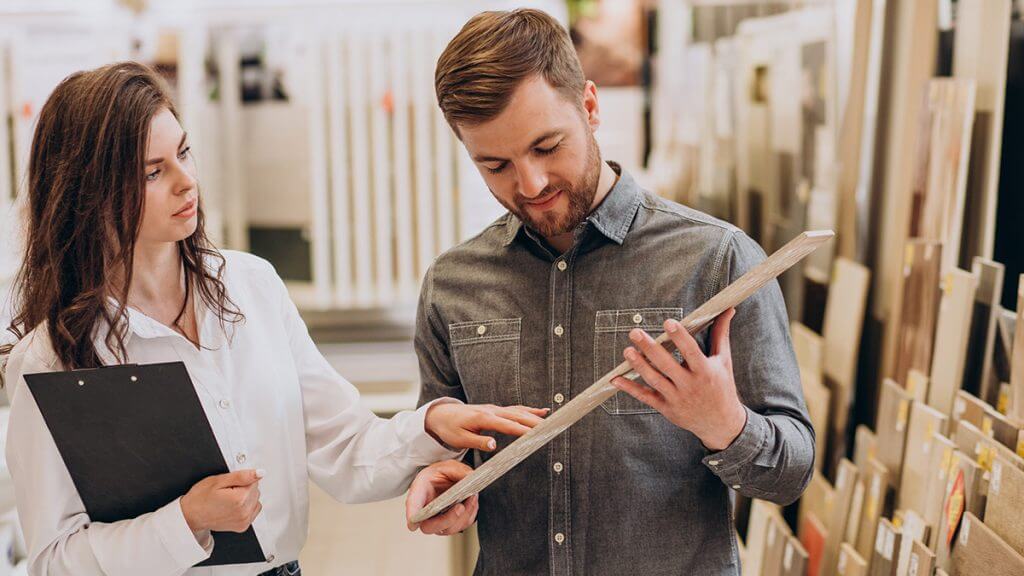 patterned tiles
Just like ceramic, this can make it look like stone or wood. Porcelain is easy to clean and take care of. It is also solid and hard to break.
There aren't many bad things about porcelain, but it's not good for things that get dropped on it because it's so hard. Like ceramic, it can feel stiff when you walk on it, and if it doesn't have underfloor heating, it can feel cold, which isn't ideal in some climates.
Natural stone
It is a durable and stylish choice for the floor of a kitchen. You can choose from many colours and patterns. Using natural stone on your floor gives it a unique look that you can't get with artificial materials.
Natural stone is a clean and easy-to-clean floor material, but it needs more maintenance than ceramic or porcelain. Stone is porous to different degrees, so it needs to be sealed to keep stains from happening. Sealing at installation or buying tiles that have already been sealed is a must.
Like other tiles, natural stone is a hard surface that doesn't give when something is dropped on it. If it doesn't have underfloor heating, it may feel cold, which may not be a good thing depending on where you live.
Wood
Wood kitchen floors can make the room feel warm and inviting. You can choose between solid wood and engineered wood. Both have a wide range of prices.
Engineered wood flooring is the best choice because it is the most useful. Because of how it's put together, this is better at keeping its shape when the temperature and humidity change during the cooking process.
Solid wood flooring isn't out of the question, but some suppliers don't recommend it for kitchens. If that's what you want, the room must have good ventilation, and you should verify the warranty before buying.
Wood flooring can be scratched, stained, and marked, but it can be sanded and refinished if that happens. It is also naturally warmer and easier on the feet than tile.
Vinyl
There are a lot of vinyl kitchen ideas that are both stylish and useful and will work in a wide range of rooms. Vinyl is made from PVC, making it strong, water-resistant, and easy to clean. It can be a good choice for homes with families because it is warmer and more forgiving than tile or wood. It's also quieter when walking on it.
A luxury vinyl tile (LVT) can look like wood or tile, as well as natural stone and patterned designs. Using it for its other benefits doesn't mean you have to give up the look you like.
But there are also plain-coloured versions in quiet beiges and bright colours. Another good thing about LVT is that if a single tile or plank gets broken, it can be replaced.
When it comes to the price of kitchen floors, high-quality LVT is in the middle. Don't buy cheap sheets because they are thin and won't work as well.
If you want an eco-friendly alternative to tile or wood in the kitchen, linoleum and cork could be the best flooring choices.
Linoleum
It's durable, can be fixed if broken, is simple to clean, and won't get wet or dirty.
It might also be a good choice for a house with young children because it is warmer, quieter, and softer on the feet than tile and wood.
You should know that high heels can leave marks on linoleum and scratch it. It also doesn't do well with too much humidity.
Cork
Cork flooring is made from the bark of trees, so it is another natural and "green" option for a kitchen floor. It could also meet many of the needs of a family home, just like linoleum. It doesn't get wet, lasts a long time, and is easy to walk on. It will also soak up noise and act as a natural insulator.
Cork flooring often comes in natural colours, but there are also coloured versions to make a bold or subtle finish.
It is easy to clean, but any spills should be cleaned up right away. As pets' claws could scratch it, it might not be the best choice for pet owners. A cork floor can be reconditioned to make it look new again, which is a plus.
Laminate
A suitable laminate will last a long time and be easy to clean. Even though it can handle water, if you're worried about spills in the kitchen, it's best to choose a version with a water-repellent coating.
It's one of the harder kitchen floors, like wood and tile, and it makes more noise when you walk on it than vinyl, linoleum, or cork. If it's broken, it can't be fixed either.
Polished concrete
Polished concrete flooring is something to think about for a modern kitchen. There are a lot of different colours and finishes, so if you're looking for modern kitchen ideas, this is a good choice.
It's a durable floor that's great for homes with pets and a lot of foot traffic. It's also easy to clean. And even though polished concrete is shiny, it doesn't make you slip. Since it is hard, it won't be kind to things that fall on it, and it won't give much when you walk on it.
Polished concrete and underfloor heating work well together, and in rooms that get a lot of sun, the concrete will soak up and hold heat.